ISDN
Hi-Top Productions now offers ISDN - real-time CD quality digital audio transmission around the world. So if you are a broadcaster, TV/film editorial house, recording studio, record label, ad agency, voice-over talent or actor in need of this service in southern Connecticut - we are here to help you!. No longer will you have to loose a day traveling into New York City at great expense!

Hi-Top Productions also provides remote picture lock via ISDN for ADR (automated dialog replacement). Talent can record narration or ADR directly to picture in our spacious 8"x10" isolation booth which then can be monitored remotely real-time by film producers anywhere in the world.
ISDN Technical Information
Dial up numbers are 203-978-5260 and 203-978-5261. Patch with Musicam Prima LT and is compatible with Zephyr codecs. Settings for basic VO: L2 Mono 128, L2 64 kbps, 48khz. Custom settings for ADR and remote picture lock are coordinated before session with connecting studios and bridge services.


Telephone Patch

For those situations that are less time critical, Hi-Top also offers a designated telephone patching system that allows talent to receive remote direction over a standard telephone line. Files can then be delivered electronically after the recording session is complete.


Telephone Patch Technical Information:

Dial 203-967-2200 for single line patch. Conference call patch is available upon request.
Patch with JK Audio Broadcast Host Digital Hybrid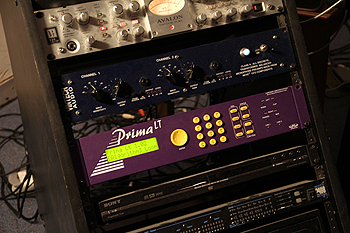 Hi-Top Productions
1 Bank St. LL2, Stamford, CT 06901
Tel: 203.967.2200 Email: shansen@hi-top.com